"The doctor of the future will give no medicine, but will interest his patients in the care of the human frame, in diet, and in the cause and prevention of disease."
- Thomas Alva Edison
10 Tips for Healthy Living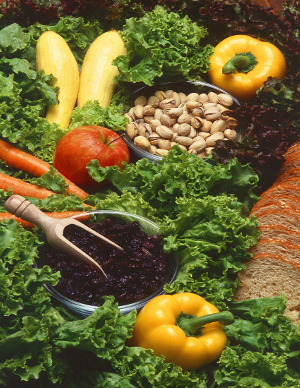 1. Eat whole and unprocessed food.
There's a lot a talk in the diet communities about counting calories. Remember that not all calories are created equal. Processed foods are void of any nutritional substances. Then to make them taste better, salt, saturated fats, sugar and other sweeteners are added. What's more important is to eat whole unprocessed foods like vegetables, fruits and grains. They are the source of nutrients that we need like vitamins, minerals, enzymes and other phytochemicals. Your hunger will be satisfied with nutrients and your cravings for junk food will go away. This is a better approach to eating than the typical or Standard American Diet (SAD).
2. Drink purified water. Don't drink tap water.
Recent studies have shown that there are all kinds of pharmaceutical drugs in our water supplies. One way this happens is by people flush medications down the toilet. Another way this happens is by throwing them in the trash. Then they end up in a landfill and they dissolve and are carried away by rain and end up in the water reservoirs. Also, pesticides and other pollutants in the air mix with the rain and they also end up in our reservoirs. The best approach is to drink purified water. Water distillation is best, followed by reverse osmosis filtration. It is worth the investment in your health and well-being to buy a good water purification system for your home. I have a small water distiller for my apartment. There are various sizes to meet everyone's needs. And the water tastes much better than that out of the tap. You will notice the difference when you make the switch.
3. Get plenty of sleep.
It is best to get at least 7 hours of sleep daily. Children need more. Without adequate sleep, your body can become exhausted and your immune system can become compromised. Not only that but you can gain weight as a result of a lack of sleep. And you shouldn't drive if you are tired. Drowsy driving is responsible for approximately 2.5% of fatal crashes according to the National Highway Traffic Safety Administration. It is best to go to bed and get up at the same time every day.
4. Reduce or eliminate stress.
Stress is a major cause of illness. Chronic stress can weaken your immune system and digestive system. It can cause insomnia, nervousness, headaches, extreme emotions, fatigue and many other health issues. You can reduce or eliminate the effects of stress by learning breathing and relaxation techniques, such as those taught as part of a qigong system. Exercise is another good way to fight stress. Eating healthy whole food is also important to handling unavoidable stressful events. Hypnotherapy is another effective way of managing stress.
5. Exercise regularly.
Recent studies have shown that living a sedentary life can take years off your life. Regular exercise is a good way to add years. I recommend mindful exercises like yoga, tai chi and qigong. They energize you without causing you to be overly exerted and exhausted. Stretching is another beneficial exercise that will help keep muscles flexible. Weight bearing exercises keep the muscles and bones strong.
6. Meditate regularly.
Meditation will help you to relax and focus your mind. With practice, it will help to lower blood pressure. Qigong meditation is especially good for relaxing the mind and increasing one's energy level. Regular daily practice will yield the best results. Another effective meditation practice is to recite a mantra (positive phrase or saying) silently in your mind with your eyes closed.
7. Learn something new to maintain a healthy brain.
Learning new things on a regular basis causes the brain to make new neural connections. This helps to keep the mind active. You can learn a new hobby, exercise, take an art class, learn to play an instrument, and many more. Be creative. Invite a friend to join you.
8. Visit with friends and family regularly.
Being around loved ones is a great way to feel connected and appreciated. It also gives you the opportunity to help your family and friends. Then they will be there for you when you need help.
9. Be of service to others.
Being of service to others not only causes an increase in the feel good hormones of the people you are helping and yourself, but also to those that witness your generosity. There are lots of opportunities to get involved through local charity organizations. You can also donate money to a cause that means something to you and your family. Volunteering will be much appreciated at a local food bank or soup kitchen.
10. Have an open mind.
Let go of unnecessary fear and doubt. Open up your mind to new possibilities. Life is constantly changing for all of us. Accept the uncertainty and embrace new and unexpected circumstances with an open mind. Learn to tap into your intuition instead of immediately running your old fear based programming of "why me". Life might just surprise you.