"Sometimes your joy is the source of your smile,
but sometimes your smile can be the source of your joy."
- Thich Nhat Hanh

Qigong Smile Meditation
Home Study Kit - Solo Edition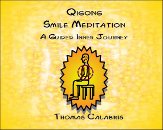 The Smile Meditation takes you on an amazing journey through your body, bringing the energy of your smile to your body. Smiling actually changes your body's physiology and biochemistry. It uplifts your mood and relaxes your body. You will learn how to smile inwardly, energizing your entire body. This course will definitely leave you smiling inside and out. This Qigong Smile Meditation Home Study Kit will teach you Qigong fundamentals, such as, Qi (life energy), relaxation, and much more. No prior Qigong experience is needed. One of the greatest benefits of practicing Qigong is the reduction of the effects of stress on your body. This kit includes an easy to read step-by-step eBook instruction manual and guided meditation audio program (digital and hard-copy formats available). Also included is two months of email correspondences and a one hour phone consultation with the instructor.
This course will answer the following questions :

What is Qigong?
What is Qi?
Why study and practice Qigong?
How can Qigong help to balance our lives?
Why is relaxation so important?
What is a Qigong state?
How can Qigong relieve stress?
How can your smile facilitate healing in your body?

You will also learn the following:
The major cause of illness.
The importance of mind and body relaxation.
Basic energy flow in the body.
Three energy centers.
Qigong Smile meditation.
Three easy to learn meditations.
How to store energy following meditation.

Here's what you get:

1. Qigong Smile Meditation Instruction Manual eBook
The eBook answers the above questions and includes the above topics and more. It describes the basic principles of Qigong and describes, in detail, the meditations in the home study course.
Click here to preview and download a free sample of the eBook.
2. Guided Meditation Audio Program
The guided audio program includes the following 5 audio tracks that will guide you step by step through the Qigong meditations included.
Introduction
Open Mind Meditation
Smile Meditation
Mind in Lower Dantian
Short Finish Form
3. Two months of email correspondence with the Qigong instructor.
You can ask Qigong related questions for two months by email. The Qigong instructor will answer your questions.

4. Bonus - One hour phone consultation with the Qigong instructor.
You can ask Qigong questions directly to the Qigong instructor on the phone. You will get instant answers. You can discuss how your practice is going and the instructor can give you immediate feedback, tips and suggestions for further training.




Listen to sample tracks.

* Royalty free background music by Christopher Lloyd Clarke. Licensed by RoyaltyFreeMeditationMusic.com


Get started now and learn how to change your life.
Send email to Admin@InnerVitalityQigong.com or call if you have any questions.

Qigong Smile Meditation
Home Study Kit - Online Edition